Monday 28/07/14
Dieter and Clara where the winners of our top prize at the EWF in 2013. They had won a weeks fishing for half price and now their chance to claim it was here. The week started off with the dreaded threat of weather that was too good to go fishing in. Light wind (or rather no wind!) and an onslaught of midges to try the patience of a saint forced us to go as high up into the hills as we dared. This was not the initial plan as the walk up to the lochs had not been done for a full year and my legs had yet to tell my brain just how steep the climb up really is. When we got to the lochs a lovely, steady breeze greeted us so we had at least been spared from the midges. Setting up the rods I suggested that Clara, who had only fished a handful of times before, should start at the big pool that is formed at the end of loch number two. On her first cast a huge set of white lips came up and engulfed her fly only to spit it out as fast as they had opened in the first place. You win some and you lose some. We pushed on to the main loch but the trout were just that little bit further out from our casting range. It was not a perfect start for anyone who has never fished up here before, as these hill lochs can be ever so productive and also overly cruel. At the end of a very testing day's fishing we headed back down the hill with little to show for our efforts. Day two was to bring a change though.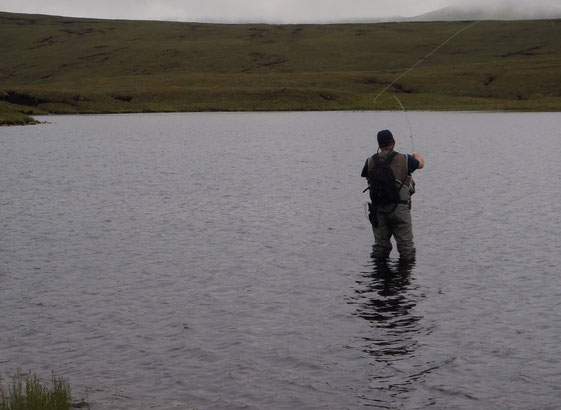 Tuesday 28/07/14
Wind! Lots of wind! It took me all of five seconds to think of what to do: we're going boat fishing! As soon as we pushed the boat out both Dieter and Clara were into fish. It was classic drift boat fishing with the trout coming up to nail the bob flies again and again. After six hours of fishing had gone by both Dieter and Clara had caught 9 trout each with Clara having a double hook up in the first 10 minutes. This was much more like it and they both experienced the hard fighting qualities of wild Highland trout. There were no monster trout landed but with an average weight of around half a pound to a pound both anglers enjoyed a memorable day afloat. Would the wind stay with us for day three?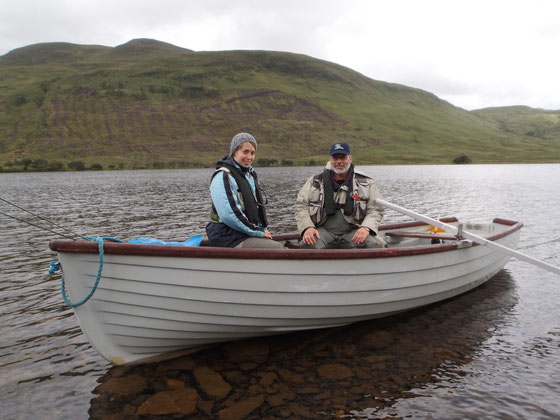 Wednesday 29/07/14
Wind is really good for the fishing up here but there is a limit to what you can fish in. This was a wild day all right and a nasty one to boot. Boat fishing would have been suicidal with torrential showers only making things worse. Thankfully I have many options up my sleeve for days like these and we soon found ourselves at a private estate loch with a good degree of shelter. Clara had a lovely fish of about a pound on her first cast that took her completely by surprise before coming to the net. Success from the start and things were looking up!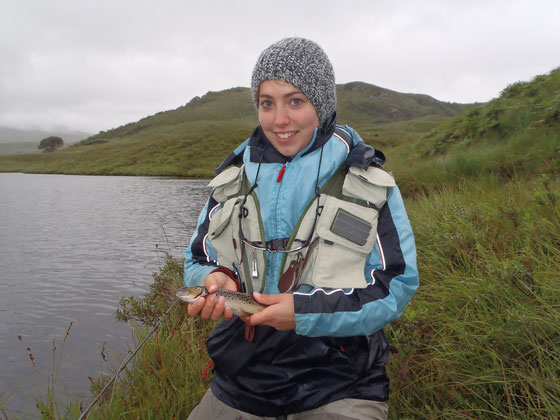 After two fish less hours though, things were taking a rather down wards momentum. The rain had made its way through Clara's jacket and Dieter did the honourable thing that any father would do and took her back to the hotel. I have fished in all weathers but this day was nearly enough to dampen my spirits. Whilst I was waiting for them to return I had a few casts (my spirits were dampened, not extinguished!) and lo behold I managed two lovely trout of around one and a half pounds on a new fly (more on this later!). The trout were lying quite far out though and only a very long delicate cast could reach them and get them interested. When Dieter came back we both fished on, covering every inch of the loch for no reward. A tough day, but one that allowed Dieter to truly understand the need to be able to cast in high winds. He pretty much nailed it by the end of the day too!
Thursday 30/07/14
The weather had changed again. No more strong winds or rain and a lovely southwesterly wind that brought sunshine and a jump in temperature with it settled in over the North West. I instantly suggested that we fish at one of the limestone lochs near Durness as this really was the perfect day to try and wangle out a few of their silver flanked residents. We arrived at Loch Borralie to see the loch looking perfect. The odd rise confirmed that the trout were active and we soon got underway with a mix of wets and dries. Dieter's patience was soon rewarded with a fine trout of around the one and a half pound mark on a dung fly hopper. A beautifully marked fish that gave him a fine fight before being released back to it's home. I was then into another fish about the same size on the same new fly as I had used the day before. The fly in question is another doobry variant but unlike the original it is not fished as a bob fly. It is a point fly by its nature and the bright weather was giving it a serious boost.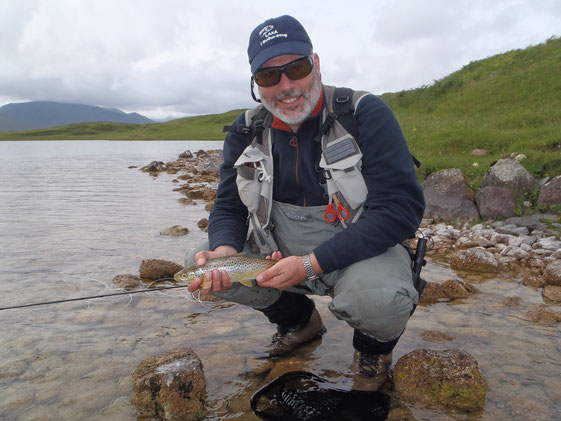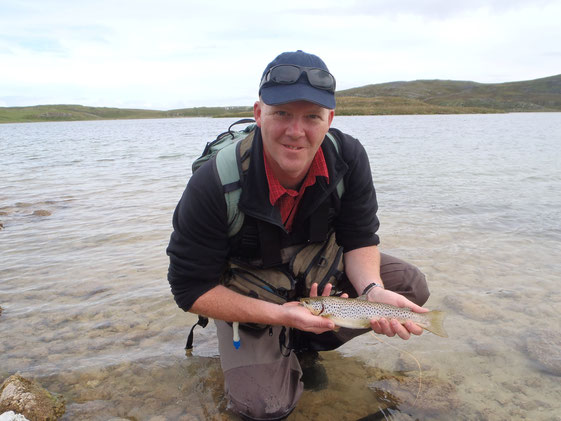 The day ticked on with a few missed takes, plenty sit downs to admire the stunning scenery and some well deserved chat about fish, the world and everything else that we could think of. The evening was fast approaching and I suggested we stayed on until later as everything was set up for a big fish. I also gave Dieter the same new fly that I had been using as I thought with the bright weather and orange evening sky it could just do the trick. We fished on round the eastern side with little interest from the trout and I was beginning to think it would "another one of those days" when suddenly Dieter announced that he a hook up. I can only remember looking over and seeing his six weight beginning to take a more serious bend than it had before and the reel going into overdrive. I managed to get some super photos as Dieter expertly played the fish out and brought it to the net. I knew it was a good fish but I wasn't expecting the net to be filled as it was lifted out of the water!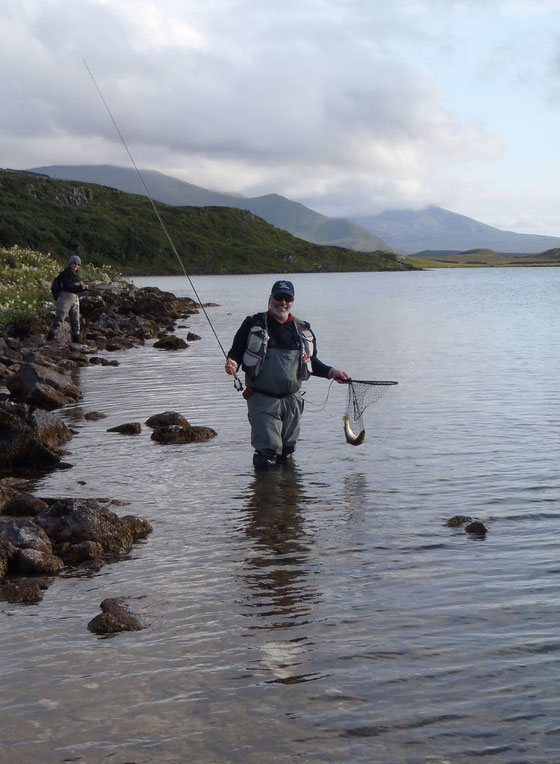 Two and three quarters of a pound's worth of immaculate Borralie trout soon lay in front of us. Well done Dieter!!!! After a few shots for the album we let the trout go back to it's crystal clear home none the worse for its short trip to our domain.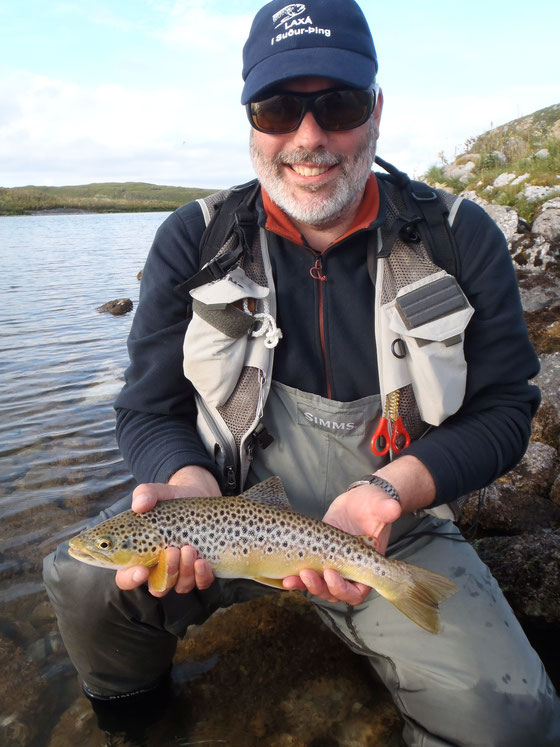 He then managed another fish of about a pound before I finished the day off with about the smallest fish in the loch. A truly memorable day for Dieter and one that showed Clara why we put so much time chasing after fish with a feather and string. The new fly was now christened the Daubry in memory of its first really good fish and its captor.
Friday 01/07/14
The week had drawn to an end and we elected that a final day in the boat would be in order. It would, hopefully, put Clara in a much better chance of covering fish than from the bank. The wind was lighter than it had been on Tuesday so we opted to drift the far bank instead of the near one that we had fished previously on Tuesday. This made life much easier for us all: the anglers and ghillie! I had put my faith in putting Dieter and Clara down from a team of two flies to a single point fly on Tuesday for various reasons. The main one had been the wind. If you are not used to casting a team of flies then a seriously gusty wind is no time to start learning! The inevitable tangles and subsequent time lost on a good drift has to be weighed up. A single fly will raise fewer fish but as long as you fish the single fly properly you will still raise and hook fish too and certainly more than when your flies are wrapped up in heap on tangles leader at the bottom of the boat. So I stuck with my plan for Clara to fish with the single dry fly and put Dieter (who had really cracked the casting with more than one fly game) on a heavier rod with a team of two in the hope of a silver tourist. After the initial row across the loch we set up our first drift. Everything was perfect. After the first 15 minutes had passed with nothing even close to a take I was beginning to lose my initial positive rush when suddenly a very small dimple engulfed Clara's single highland sedge (another new one!), the rod buckled over and the fight began. The trout took her round the boat twice before going very deep but she played it very well and after a few minutes a real beauty of a brownie of just over one and a half pounds was duly netted. Her smile said it all and it was now her turn to get the photos taken before we slipped the trout back into the depths. This had been a real success story with Clara getting more confident and advancing every day to the point that she had now cast, struck and played a fine trout like someone who had been doing it for years. Well done Clara!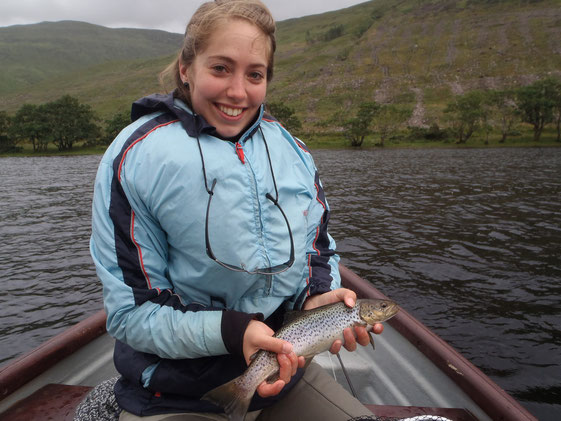 The day wore on with some more trout but nothing to compete with the early catch. Dieter managed his very first ever sea trout when a nice finnock grabbed a caley wee double so another milestone for him had been set.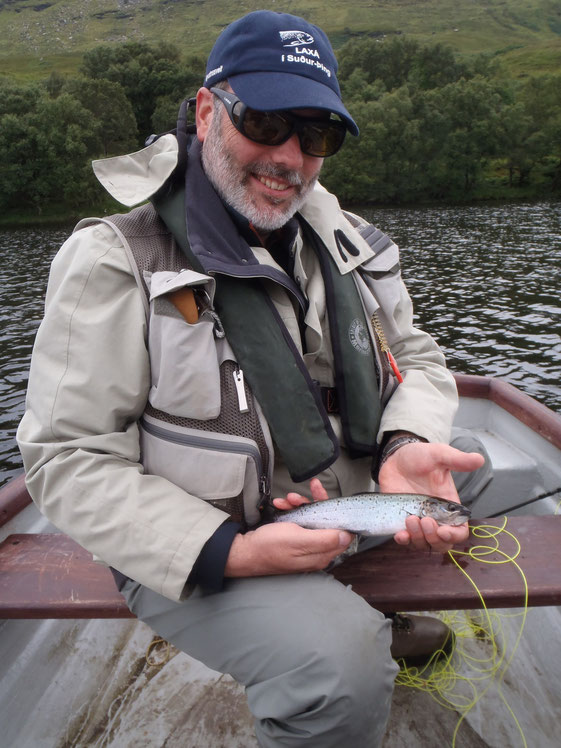 The only sour point I can think of that day took place in the final 30 minutes before calling it a day. After the wind had died only to re-appear from a different direction we were treated to a rain shower that was so intense it stole the wind completely. When the shower finally passed we all got a taste of midge hell that had to be seen to be believed. The midge hoods came to rescue and saved us from becoming a four-course meal for the Highland Flying Core. Still, we'd had a great day and the few unwanted bites we had were soothed and anaesthetised by a few drams in the hotel bar later on. Thank you Dieter and Clara for coming up and having great week with Wildside Fishing. It was great one and we hope to see you back.